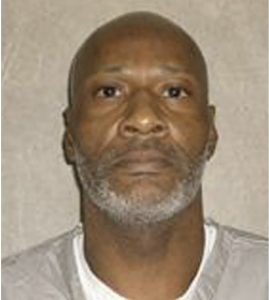 Eyewitnesses report that John Grant suffered repeated "whole body convulsions" and vomited during the execution. Meanwhile, OK officials say execution was "uncomplicated" – and plan for another
speakDeath Penalty Information Center,
Oklahoma's legacy of botched executions continued to grow, as media witnessed John Grant's execution on October 28, 2021 reported that Grant suffered from repeated seizures and vomited for nearly 15 minutes afterward. having received the controversial running drug midazolam.
Grant's execution was Oklahoma's 113th since executions resumed in the United States in 1977 – tied with Virginia for the second-highest number of states during that period. It was also the state's first execution since the failed executions of Clayton Lockett in April 2014 and Charles Warner in January 2015, followed by the abandonment of the execution of Richard Glossip in September 2015.
Associated Press media witness Sean Murphy reported during the post-execution press conference that Grant started having seizures almost immediately after injecting midazolam into his body. After being administered "[t]The first drug – midazolam – he took a deep breath, he started having seizures about two dozen times – seizures all over his body, "Murphy said. "Then he started to vomit, which covered his face, then started to run down his neck and down the side of his face."
After prison staff wiped Grant's face and neck, he began to convulse again and again to vomit, Murphy said.
Oklahoma City Fox TV presenter Dan Snyder corroborated Murphy's account.
"Almost immediately after the drug was administered, Grant began to have seizures, so much so that his entire upper back repeatedly lifted off the stretcher," Snyder reported. "As the convulsions continued, Grant then began to vomit. Several times over the next few minutes, medical staff entered the death chamber to wipe up and remove the vomit from Grant who was still breathing, "Snyder wrote in his minute-by-minute account of the execution.
About 15 minutes after the execution, media witnesses said, prison staff declared Grant unconscious and the second and third drugs in the Oklahoma Enforcement Protocol – the paralytic drug vecuronium bromide and potassium chloride, which induced heart failure – were administered. He was pronounced dead six minutes later at 4:21 p.m. Central time.
Prison officials initially ignored evidence of an execution gone awry, releasing a statement from communications director Justin Wolf that "inmate Grant's execution was carried out in accordance with Department of Corrections protocols from Oklahoma and uncomplicated ".
At a press conference a day after the execution, ODOC Director Scott Crow called eyewitness accounts of the execution "embellished," describing the seizures reported by several witnesses as " dry lifts "and Grant's vomiting as" regurgitation ".
Snyder responded bluntly to the sanitized description of ODOC's execution. "As a witness to the execution who was in the room, I will say this: Repeated convulsions and profuse vomiting for almost 15 minutes does not appear to be 'uncomplicated'" he tweeted.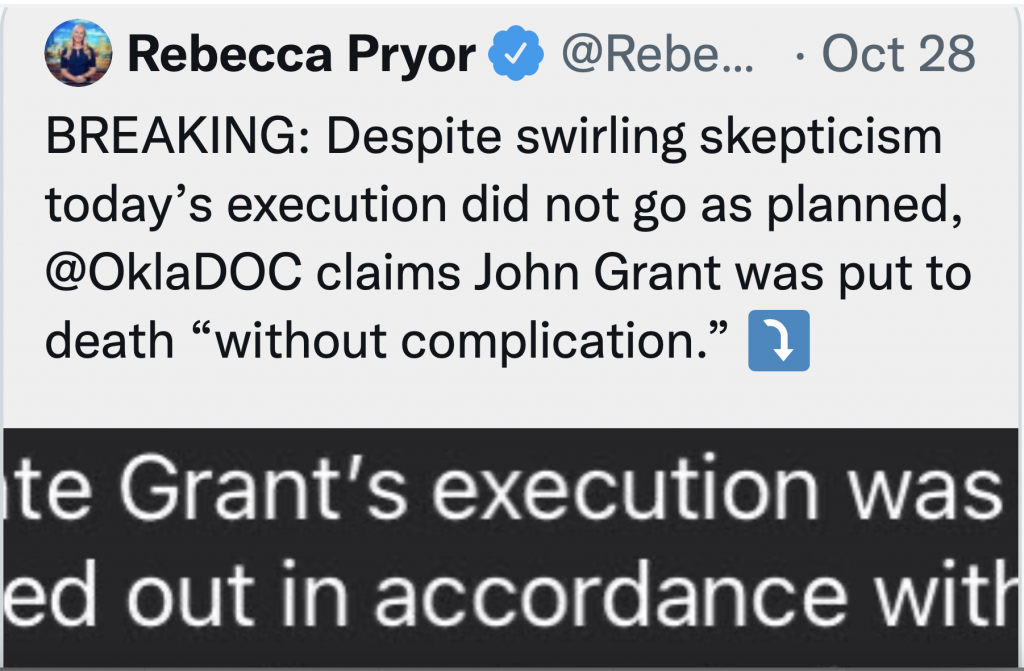 Lawyers and law reformers have called on Oklahoma to suspend the six remaining scheduled executions. Deputy Federal Advocate Dale Baich, who is one of the attorneys representing state death row inmates in their constitutional challenge to Oklahoma's execution protocol, said: "[b]According to the eyewitness report to the execution, for the third time in a row, Oklahoma's execution protocol did not work as it was designed.
"This is why the Tenth Circuit suspended John Grant's execution and why the United States Supreme Court should not have lifted the suspension. There should be no more executions in Oklahoma until we leave [to] trial in February to resolve the state's lethal injection protocol issue, "Baich said.
Oklahoma City University law professor Maria Kolar, who served on the bipartisan Oklahoma death penalty review board that recommended state death penalty reforms, told NBC News that the state's rush to carry out executions ahead of the February 2022 trial over the constitutionality of its method of execution was a reminder of the state of mind that led to Lockett's botched execution.
"This time reminds me of the last time," Kolar said. "[T]The attitude of "You can't stop us, we are moving forward. Even if they don't have to wait, the state should wait and respect the process.
Oklahoma had not attempted an execution since September 30, 2015, when then governor Mary Fallin called off Richard Glossip's execution at the last minute after being informed that ODOC had received the wrong medication, potassium acetate, instead of the required potassium chloride. as the third drug in the state's lethal injection protocol.
It was later revealed that the state had known for months that it had obtained and used the same unauthorized drug to execute Charles Warner in January 2015. Media witnesses reported that Warner said during his execution: " It sounds like acid "and" My body is on fire.
Oklahoma also botched the execution of Clayton Lockett in April 2014, failing for 51 minutes to establish an intravenous line of execution, then misplacing the line in Lockett's groin, injecting the drugs into the surrounding subcutaneous tissue. . With Lockett writhing on the stretcher in a pool of blood, the execution was called off but 43 minutes after the first drug administration, he died.
"We continue to have issues with executions here," Death Penalty Action director Abraham Bonowitz said after Grant's execution. "The idea that Oklahoma can't do it right, you know, should be a wake-up call."
In a press release issued two days before Grant's execution, ODOC said it was ready to resume executions. "[a]close to investing considerable hours in reviewing policies and practices to ensure that executions are handled humanely, effectively and in accordance with state law and court decisions. ODOC said it "continues to use the approved three-drug protocol that has been shown to be humane and effective. … Numerous validations and redundancies have been implemented since the last run to ensure that the process works as intended.
After Grant's execution, the executive director of the Death Penalty Information Center, Robert Dunham, issued a statement that "to say this is another botched execution by Oklahoma would be inadequate. . Oklahoma knew full well that this was very much in the realm of possible results in a run of midazolam. It didn't care… and the Supreme Court apparently didn't care either. "
During his October 29 press conference, the Crow prison warden said Oklahoma had no plans to change its protocol or execution procedures following Grant's execution.
---
Editor's Postscript
Julius Jones is another man residing on Oklahoma death row who is to be executed by the same three chemicals that his attorneys say subjected John Grant to excruciating pain and physical distress.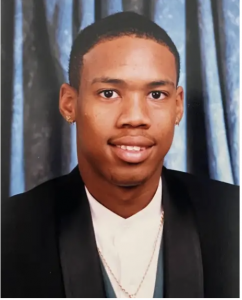 Jones is to be put to death on November 18, for a murder he always claimed not to have committed.
On Monday November 1, however, Oklahoma Pardons and Parole Board voted 3 to 1 to recommend that Oklahoma Gov. Kevin Stitt grant clemency for Jones.
Instead of death, the parole board recommends that the governor commute Jones' sentence to life in prison with the possibility of parole.
If neither the court nor the governor successfully intercedes, Jones will be executed in just over two weeks for the 1999 murder of a man named Paul Howell, of Edmond, Oklahoma, who was shot dead in front of his two daughters. and her sister.
(It should be noted that Howell's family members continue to believe that Jones is in fact guilty.)
Jones and his lawyers argue that he was convicted of "fundamental failures in the system responsible for deciding" his guilt. Among the breakdowns cited by lawyers are "ineffective and inexperienced public defenders, "the racial prejudices of the jury, a heavy case of "Undesirable science", and allegation of "prosecution misconduct".
---
This story (with the exception of the editor's postscript above) originally appeared on The Death Penalty Information Center.
The Death Penalty Information Center – or DPIC – in case you didn't know, is a national non-profit organization that, more than any other source, serves both the media and the public with in-depth analysis and information on capital punishment issues.
Founded in 1990, the DPIC organizes briefings for journalists and generally serves as a resource for anyone needing information on the issue. The DPIC also produces reports on various collateral subjects linked to the death penalty, in particular the arbitrariness of the death penalty, its high cost, the racial disproportion with which it is applied and the factor of innocence.